In Ballymena Robert Adair Jewellers carry our ear piercing at their shop on Mill Street. Stuart Adair has been piercing Ears for over 20 years and knows that choosing an experienced professional can help ensure that the job is done properly and you get the right advice about aftercare.
Here are some hints to make sure that your ears are infection free when you get them pierced.
Don't remove the starter earrings until your piercings have healed. At Robert Adair Jewellers we only use 14ct gold earrings. Only 14ct gold earrings are used with a choice of either yellow or white gold 4mm ball studs available. We use of quality gold ear rings is essential to limit the chances of allergic reactions. If you remove them prematurely, your piercings may close or heal improperly.
Don't touch your ears often. Unnecessary handling of your piercings can lead to infection.
Be careful with items that could snag your earrings, especially when you are changing clothes.
Don't let other substances touch your ears. Avoid getting shampoo, conditioner, and other hair products on your ears, because the ingredients could lead to an infection.
At Robert Adair jewellers we have the experience and knowledge that should give you peace of mind that whether its you or your children the ear piercing process will go as smoothly as possible. Phone to make an ear piercing appointment with Stuart Adair at Robert Adair Jewellers. T: (028) 2565 6896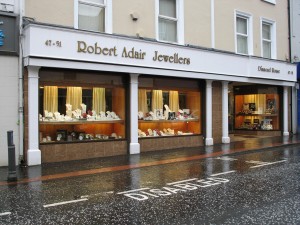 Stuart Adair
47/51 Mill Street
Ballymena
Earrings – Piercing – Ballymena