Robert Adair Jewellers, Ballymena stock stunning jewellery from fashions favourite brand CARAT*. CARAT* is one of the world's leading luxury fashion jewellers and was founded by Englishman Scott Thompson in 2003. The pieces combine the timeless glamour of a bygone era with a little modern day wearability. CARAT* jewellery is to be worn and enjoyed rather than hidden away in a safe.

CARAT* designs, develops and assembles fine jewellery using its own uniquely created gemstones and is available in 9ct and 14ct yellow, white gold and sterling silver.
Each stage of preparation is done by hand from pre-forming and faceting to polishing and setting. Every piece is prepared with precision to detail and a vision of creating the most magnificent jewellery.
CARAT* jewellery is loved and worn by celebrities all over the world, from the cast of Gossip Girl to Michelle Williams. Instyle magazine recently called them one of the "best kept secrets in fashion". We agree!
There are CARAT* boutiques in cities all around the world and CARAT* is available in Northern Ireland from Robert Adair Jewellers in Ballymena.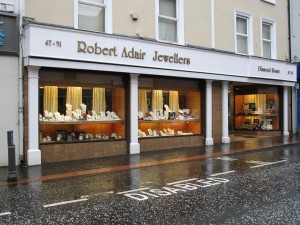 Contact Stuart Adair on 028 25656896 or email info@robertadairjewellers.com for more information.
CARAT Jewellery – Robert Adair Jewellers – Northern Ireland