Robert Adair Jewellers in Ballymena offer many beautiful wedding rings. Your wedding ring is something to wear and treasure for the rest of your life and Robert Adair Jewellers are happy to ensure that you make the perfect choice.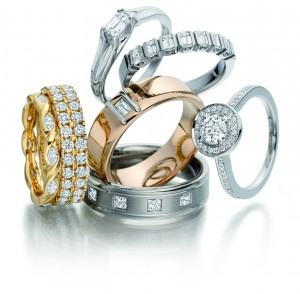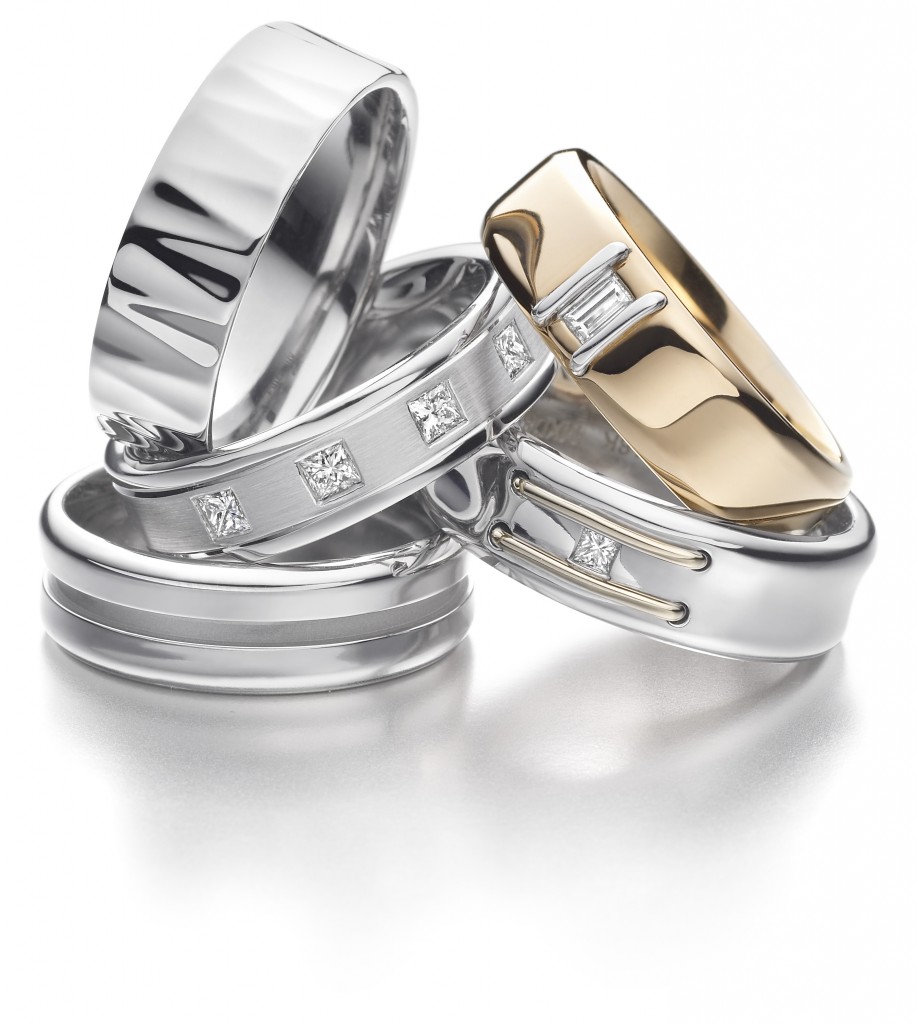 The choice of metal for the bride's wedding band is usually dictated by her engagement ring. The groom's ring will often follow suit. Popular choices include:
A yellow gold wedding ring is the traditional choice. 24ct is the purest form of gold but also the softest variety so is not generally recommended for wedding bands.  Our most popular choice for a gold band is18ct which gives a nice compromise between purity and durability.
White gold will complement any silver or platinum jewellery you may have already, and is currently a very popular choice. Most of our white gold bands have a high palladium content which means that even after substantial wear and tear the ring will still maintain its nice bright and white colour.
A platinum wedding ring is another popular choice.  A naturally white metal platinum is extremely durable and is the ideal metal to securely hold diamonds and precious gemstones.
Everybody's lifestyle is different and its important to think about an average week and the wear and tear that the wedding ring will suffer. It's worth remembering that smaller, thinner wedding bands are more susceptible to damage whilst larger, sturdier ones will withstand a lot of what life can throw at them. Also rings with fancy engraving and satin finishes etc will suffer more than a plain polished band which can be easily re-polished and refurbished as necessary. We recommend:
If you are a very active person who intends to always wear their wedding ring, then we suggest a slightly heavier band with a rounded profile both inside and out.
Mens wedding rings are typically between 5mm and 8mm wide, with 6mm and 7mm band widths proving the most popular.  A common misconception is that a larger hand requires a broader wedding ring. Sometimes a broader ring can emphasises the "largness" of a hand, drawing attention to it, while a narrower width say 5-6mm looks far better.
Give yourself plenty of time to choose your rings. Rings can be ordered and in stock within two weeks it is obviously much better not to be rushed and to take the necessary time to pick a lovely ring that you are going to cherish and wear every day for many years to come.  We find that about two to three months prior to the big day is about right for choosing the rings.
We are located at Diamond House, 47-51 Mill Street, Ballymena and have some beautiful pieces for your to browse and try on.
When choosing your wedding ring get advice from Stuart Adair of Robert Adair Jewellers.
Wedding Rings – Robert Adair Jewellers – Mill Street Ballymena