Robert Adair Jewellers in Ballymena are renowned for their excellent customer service which is boosted by their in-house workshop where the friendly staff can deal with any of your jewellery or horological problems. Any customer who buys a quality clock or watch can rest assured that future maintenance and servicing can be carried out in house – something very rare in a retail jewellers today. All sorts of jewellery repairs can be undertaken, from joining a simple silver chain to altering the size of a valuable diamond ring.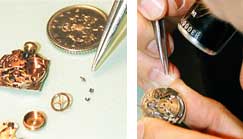 If any item purchased from Robert Adair Jewellers needs an adjustment in order to get the perfect fit Robert Adair Jewellers are equipped to shorten or lengthen chains, resize rings and adjust watch straps in their in-house workshop, free of charge.
Robert Adairs offer free engraving with any purchase. This is a lovely way to personalise a gift or highlight a special date or life changing occasion.
Does your jewellery need cleaned and polished or your watch need a service?  We can carry this out in the Robert Adair in-house workshop.
Is your white gold jewellery looking a little jaded? Robert Adair Jewellers can have these items polished and re-rhodium plated & polished to look like new again.
If you've just bought that special gift from Robert Adair jewellers, the staff will gift wrap it free of charge.
Visit Robert Adair Jewellers to see their beautiful selection of jewellery, watches and clocks. You can be confident that Stuart Adair and his staff are on hand to help you pick the perfect piece and of course to keep it sparkling or running to perfection for many years to come
Visit their their store at Mill Street, Ballymena or www.robertadairjewellers.com for more information.