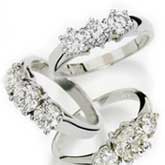 Here at Jewellery Latest we know Platinum and White Gold are incredible popular. If you are getting an engagement ring, wedding ring or jewellery you want to pick the best you can get for you money. So which is better; Platinum or White Gold?
For diamond rings we would generally advise a customer to purchase a platinum ring, however if the potential budget is below say £1000.00 it may be worth considering white gold which will then allow more emphasise to be put on diamond quality etc and not on the precious metal the ring is made from.  Modern white gold alloys have improved greatly over recent years with the newer metals having a much whiter appearence in their raw state, this is improved with a rhodium plating which Robert Adair Jewellers can re apply at any stage for a minimal charge.
Not only is Platinum the most valuable of all the precious metals, but it is one of the hardest and most durable.
Unlike white gold, platinum is a white metal through and through and even when it goes dull through wear, Robert Adair Jewellers have the facilities to have it re-polished as new.  So if you are considering a diamond ring then look for platinum.   For more advice and a selection of Platinum and White Gold Jewellery visit Robert Adair Jewellers in Mill Street, Ballymena.
Get advice instore from Stuart Adair of Robert Adair Jewellers.
Platinum – White Gold – Robert Adair Jewellers – Mill Street Ballymena