The price of Platinum and Gold has sky rocketed and is a cause for concern for both manufactures and retailers.
Manufacturing items such as diamond engagement rings and wedding bands has become more expensive.
Could Palladium be the new alternative? 

At Robert Adair Jewellers Ballymena we have found a gradual rise in the popularity of this precious metal with more and more of our customers seeking an affordable price range.
Palladium is 95% pure and is made up Ruthenium and Iridium, which are also platinum group metals. 
Palladium is a Platinum group metal and comes with many advantages.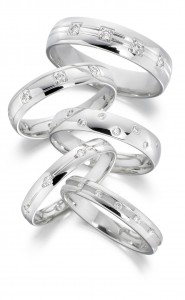 For example:
It does not tarnish or lose whiteness when worn.
Palladium does not need to be rhodium plated like white gold
Palladium is harder wearing.
As it is a platinum group metal it makes the jewellery item hypo-allergenic
with negligible nickel content
The colour of palladium is slightly darker than platinum making any set diamonds look more revealing.
Palladium is in the same price bracket as white gold but due to the price of gold rising and that Palladium is a less dense metal than gold it is less expensive.
Interesting facts – 
Palladium is actually rarer than Gold and may hold a higher value in the future, especially if it becomes sought after over Gold due to trends in the buying market.
From January 2010 Palladium has been officially recognised as a precious metal. If a Palladium design weighs more than 1 gram it is now a legal requirement for it to be hallmarked.
The symbol for Palladium is the Pallas Athene, the Greek Goddess of War, Wisdom and Crafts, after whom it was named. The mark was designed for use as part of the Palladium hallmark as shown below.

Like 9ct and 18ct gold there are two qualities of palladium available palladium 500 and palladium 950.  The 950 quality is almost pure palladium while the 500 standard comprises 50% palladium.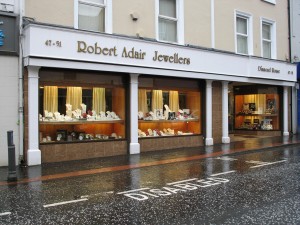 Robert Adair Jewellers stock a full range of palladium rings in both 500 and 950 qualities, and would be more than happy to show you the range at their Ballymena premises on Mill Street.  If you have questions or would like more information on Palladium contact Stuart Adair on  028 25656896 or email info@robertadairjewellers.com. 
Stuart Adair – www.robertadairjewellers.com – Palladium  Ballymena