Professional Ear Piercing at Robert Adair Jewellers 
Ear piercing at Robert Adair Jewellers Ballymena is a relaxed and straight forward affair carried out by Stuart Adair who has been piercing ears for some twenty years.  
Only 14ct gold earrings are used with a choice of either yellow or white gold 4mm ball studs available.
The use of quality gold ear rings is essential to limit the chances of allergic reactions etc. Stuart is happy to pierce a childs ears from the age of seven with no upper age limit! (it's never too late to get your ears pierced). The ear piercing will only take about ten minutes from start to finish although Stuart will not rush as some people, particularly children, need that little extra reassurance and explanation about what is going to happen. Remember at Robert Adair Jewellers we only use 14ct gold earrings and costs are very reasonable. It is always a good idea to ring and make an appointment to make sure Stuart is available at a time that suits you.
Any other queries or questions please feel free to contact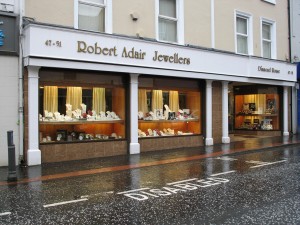 Stuart Adair

Robert Adair Jewellers
47/51 Mill Street
Ballymena
Stuart Adair – www.robertadairjewellers.com – Ear Piercing  Ballymena