Fathers Day Gifts are hard to choose but we at Jewellery Latest know that a Watch is better than another year of socks and aftershave. Your dad could enjoy a new watch and he could treasure it for life. 
A Nato Strap adds an edge to the Tissot Quickster
Trendsetters will be delighted to hear that the Tissot Quickster has received a cool new update. It is now available on a NATO strap, a practical and stylish accessory that can effortlessly withstand extreme circumstances while still looking good. The style of the strap owes its name to the North Atlantic Treaty Organisation. The canvas straps have an illustrious history – used by British pilots and the army in the Second World War, they were toughened up by replacing the typical spring bar attachments with fixed bars fused into place. This meant that only one piece of fabric was needed for the strap, so if one of the bars should break under the pressure of combat, the watch would stay on the wrist as one side would remain attached to the case. This easy functionality adds a new dynamic to the Tissot Quickster, fortifying the popular piece and adding a very desirable aesthetic that's casual, tough and trendy. A straightforward design uses a hardy fabric and stainless steel buckle fro no-frills look, while a range of colours means wearers can choose the colour that best reflects their personality.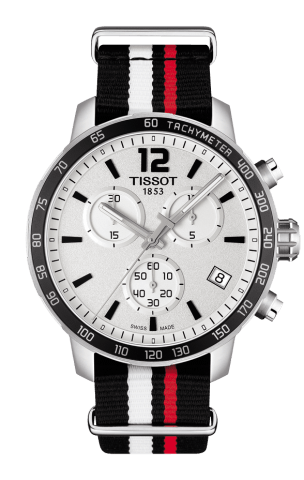 The blue and white version comes with two straps and is priced at £250.00  The other model has a sporty red and black strap is £290.
Robert Adair Jewellers in Ballymena, Northern Ireland have a comprehensive range of Tissot watches. This year Fathers Day is celebrated in Northern Ireland on Sunday 21st June. Give something special with a designer watch.